Pra Khun Phaen 15 in Five Colors amulet, Luang Por Tim Wat Lahan Rai
Presenting a very rare 'Nuea Benjarongk' (5 colored sacred clay) Pra Khun Phaen Pong Prai Kumarn Pim Yai Niyom, with Takrut Maha Bpraab in rear face. A pristinely well detailed, aesthetic and Certificated Authentic Master Class Amulet of Luang Phor Tim. An exquisitely beautiful Pra Khun Phaen Prai Kumarn 2515 BE Pim Yai Niyom Block Tong Hlueang (Block 2) Hlang Dtok Dtaeng Niyom Nuea Benjarongk Pasom Pong Prai Kumarn witj Takrut Maha Bpraab in rear face. A very rare version of this amulet in Benjarongk 5 tones, from Luang Pu Tim Issarigo – Wat Lahan Rai.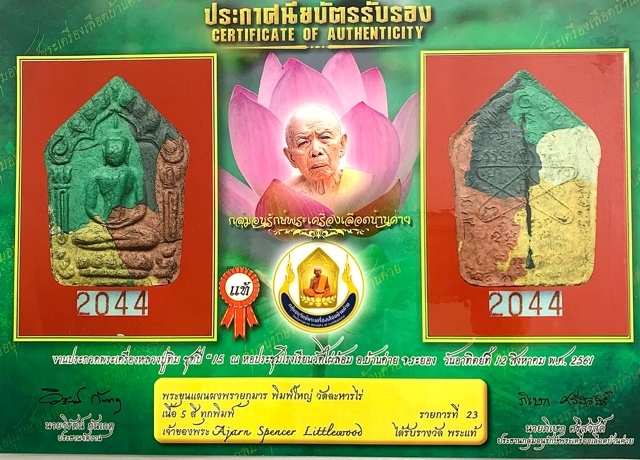 This Khun Phaen Pi 15 Pim Niyom amulet, is a very well preserved exhibit of a highly sought after Pra Niyom Master Class Amulet, which possessed five different kinds of Muan Sarn sacred Powders, the red Poon Kin Hmak, Yellow Wan Dork Tong, White Pong Prai Kumarn with Khaw Hniaw Sukh Blessed Sticky Rice, Green Paya Wan Thao Hlong Sacred Forest Vine Powders, and Nuea Dam Black Bailan Powders.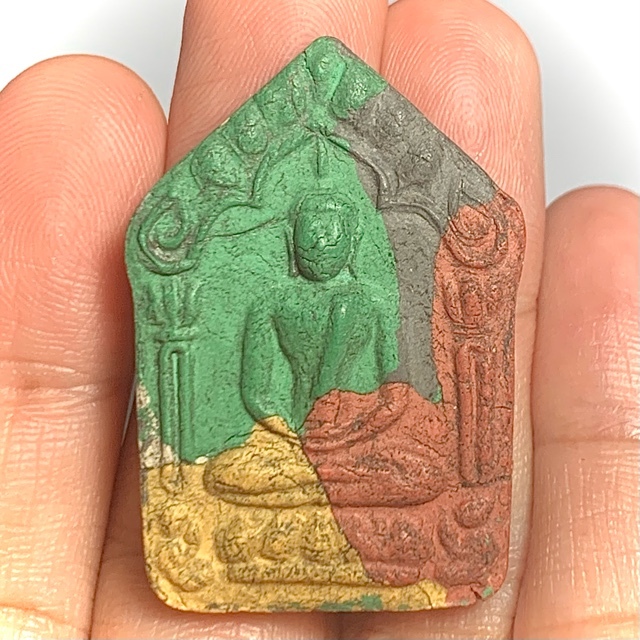 The rear face of the amulet, has a large Takrut Maha Bpraab Yatra Spell, in Nuea Tong Daeng inserted, with the Sacred Yant Grabork Khwai (5 Dhyani Buddha Yantra) of Luang Phu Tim embossed on the rear face, as is ubiquitous with the Pra Khun Phaen 15 Block Tong Hlueang.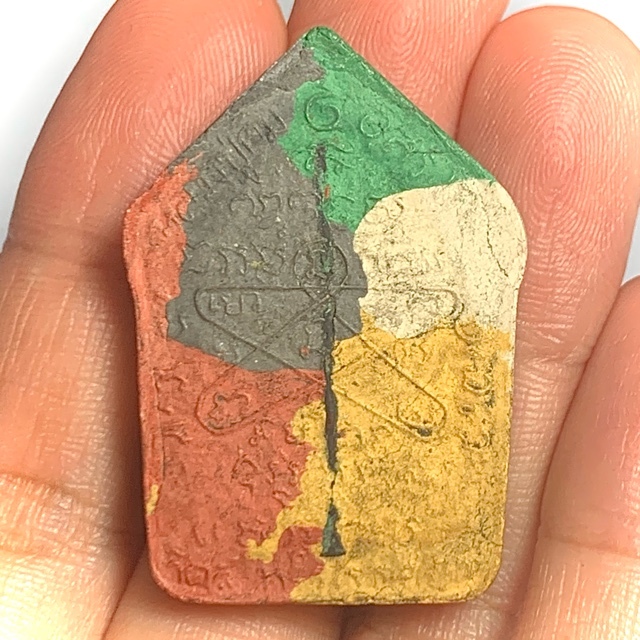 The amulet is a rare five colors version, which is one of the more highly preferred classic models of authentic Pra Khun Phaen Pong Prai Kumarn Luang Phu Tim. The Pra Khun Phaen Pong Prai Kumarn is a preferred choice of both the wise investor and devotee, as well as the perfect choice for those Devotees who seek the immense power of Luang Phu Tim's now Legendary Pra Khun Phaen Pong Prai Kumarn Pi 15.
---