Khun Phaen Prai Kumarn Hlang Hanuman Nga Gae Fang Takrut 3 Dork – 2nd Prizewinner Thai Buddhist amulet of Master Class status.   This exhibit has three Takrut in the front face,  and is a Pim Yai Pised special version, in Nuea Khaw Hniaw Sukh, blessed sticky rice, with Pong Prai Kumarn bone powders, 'Fang Hanuman Nga Gae' (Hand Carved Ivory Hanuman Vanora Monkey General of Prince Rama's Army inserted in rear face), with 3 Takrut in front face embedded, from the great Luang Phu Tim of Wat Laharn Rai.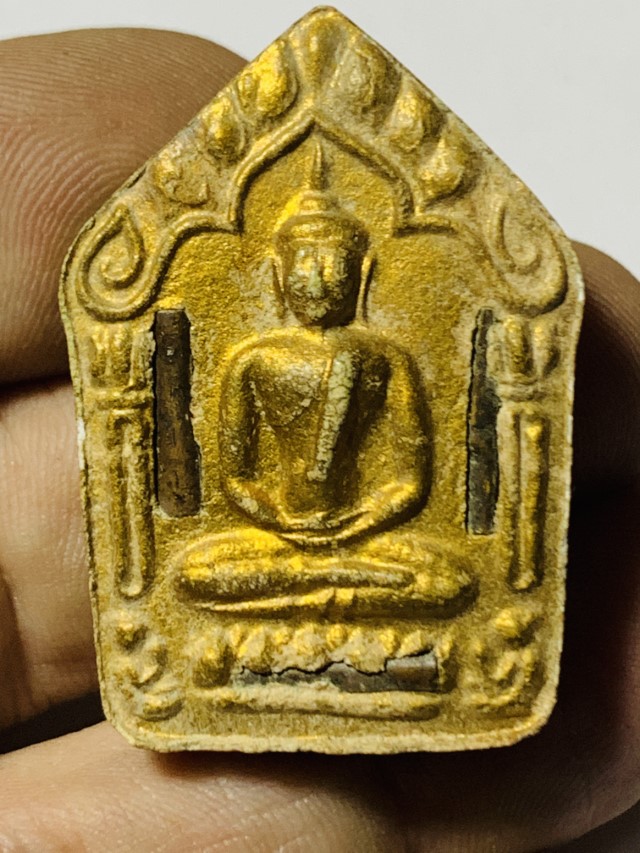 The rear face has a most exquisitely carved Hanuman God in Sacred Ivory, embedded into the Sacred Muan Sarn Clay over the Yant Grabong Khwai Yantra, and the rising up of Pong Prai Kumarn powders through the surface of the amulet is noticeable on certain portions of the surface of the rear face of this amulet, that has an unusually high amount of Sai Rae Tong Kam Gold Flakes covering the surface of both sides of the amulet,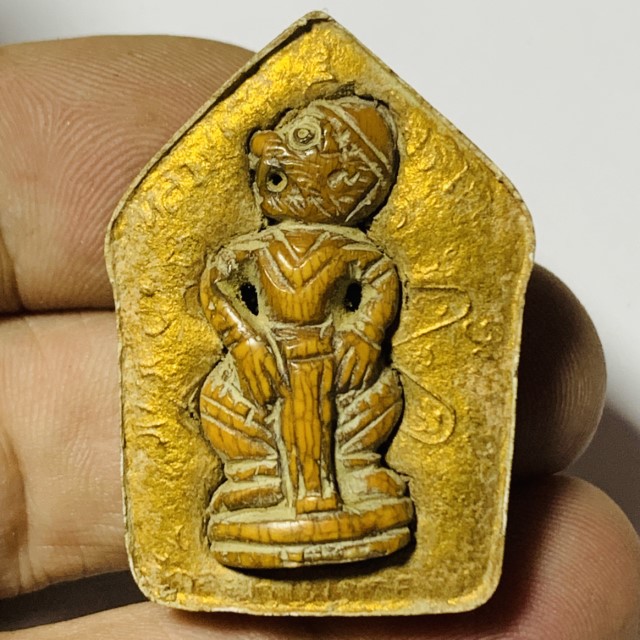 The amulet is a 'Long Sai Rae Tong Kam' version, which is one of two major methods used at Wat Laharn Rai by LP Tim., to cover amulets in golden sheen. The other method is called 'Ta Bronze Wanich'. Long Sai Rae Tong Kam is to place Nam Man Pra Jao Thaksin Oil into the block press mold, for the wet sacred clay to be pressed into, beforehand, and to throw a handful of gold flakes into the oil.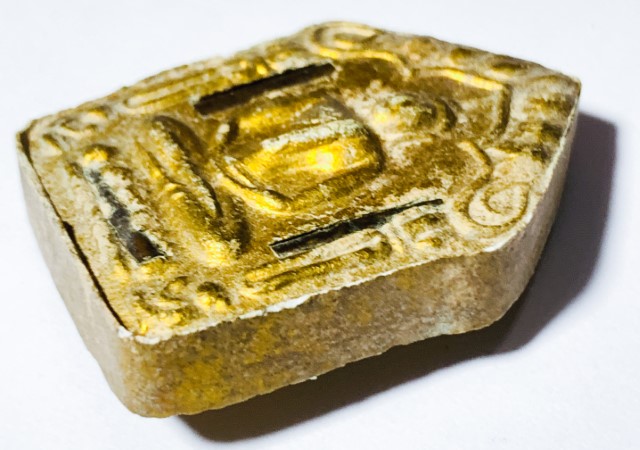 Hence, when the amulet is pressed into the mold, it absorbs the oil and the gold flakes. Some amulets were also painted with the oil and then covered with gold leaf, and the type known as 'Ta Bronze Wanich, were painted with bronze directly by hand.
This Khun Phaen  2515 Pim Niyom 2nd prizewinning amulet, is a very well preserved exhibit of a highly sought after Pra Niyom Master Class Amulet, in white powders, with blessed sticky rice sacred clay, and fully covered with Sai Rae Tong Kam gold flakes, applied with Nam Man Pra Jao Thaksin oil.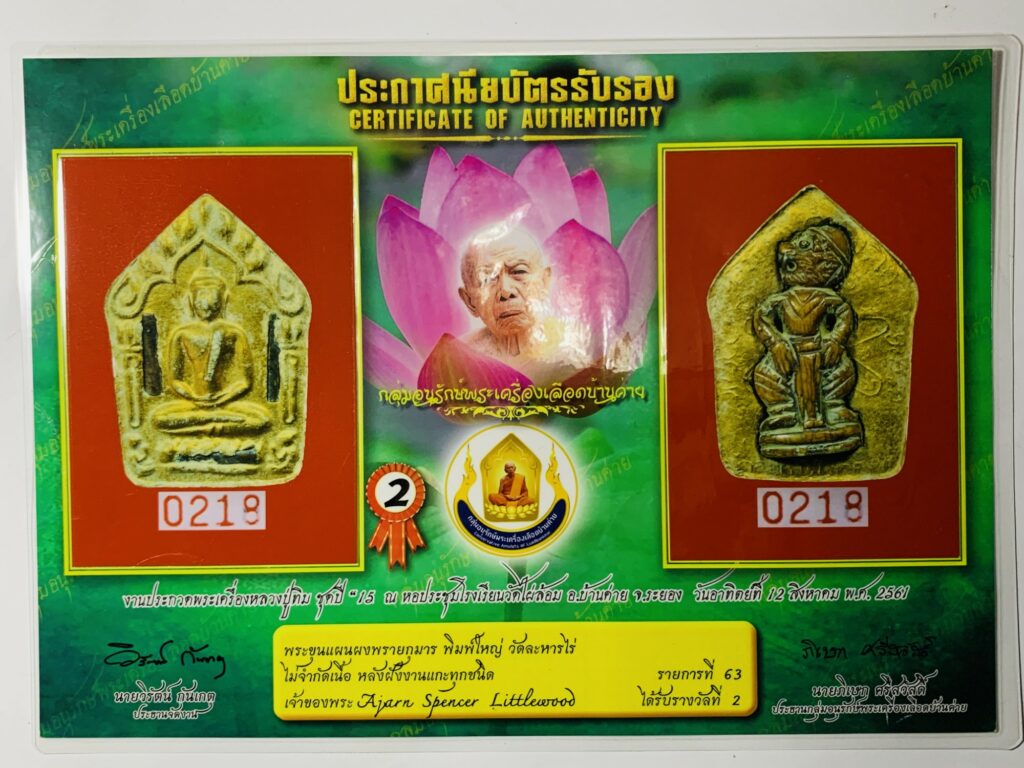 This exhibit of Khun Phaen 15 is immensely rare and desirable, not simply for its second prize winner status, obvious beauty, and authenticity, but for the rare hand carved ivory Hanuman amulet in the rear face, which in itself is both an extremely rare and valuable piece of ancient carved ivory miniature Buddhist Arts of Cultural value, but also a powerful amulet in itself. The below video with narrative by Ajarn Spencer explains the fine nuances of this amulet.
---