Presenting a Pristinely kept certificated First and Second Prize winning amulet. A competition class exhibit, of an all time Pra Niyom Master Class Amulet of the High End Category, the Pra Khun Phaen Pong Prai Kumarn Pim Yai amulet of Luang Phu Tim, of Wat Laharn Rai. This exhibit is a first and second prizewinner in two different amulet society competitions, and Champ of Show Trophy Winner, and is hence a Supreme Champion Class Amulet.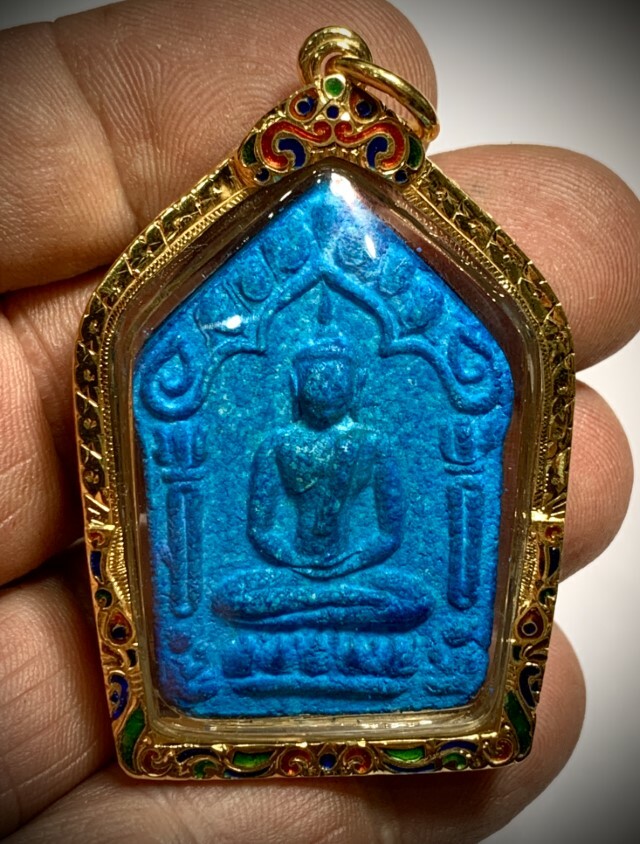 This amulet also includes free solid gold special custom hand made 'Ya Rachawadee' enamelled waterproofed casing using 8.2 Grams Solid Gold, with hand engraved Ganok flame deco, and 'Yok Sum' raised arch and pillars, with heavy gauge thick gold, and Free EMS Shipping Worldwide Included.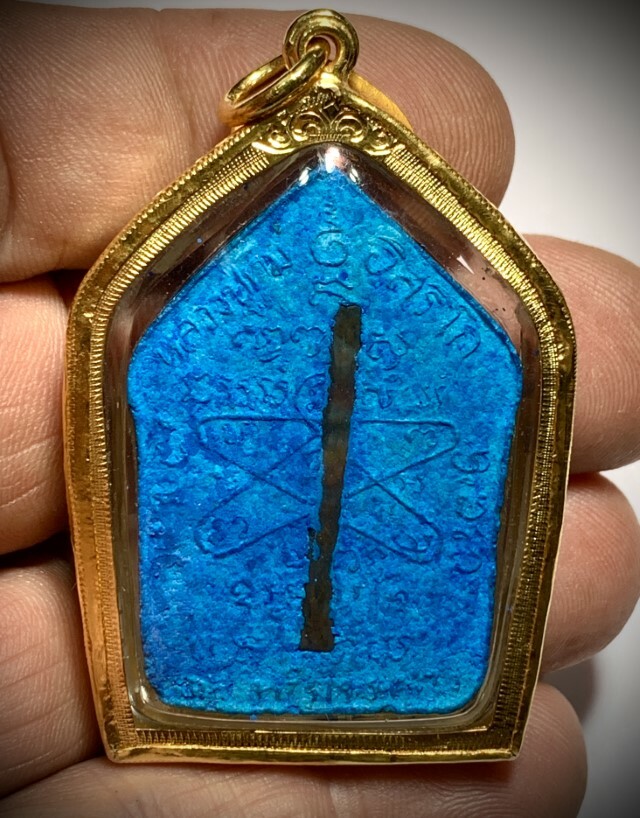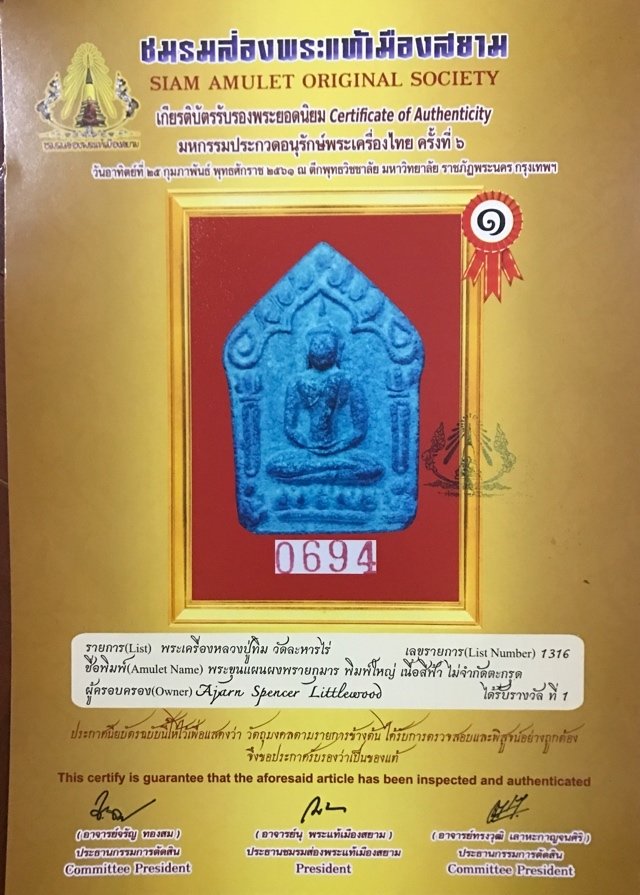 The amulet is in white powders and has been treated with blue herbal tincture, as a Pim Yai Nuea Khaw Sukh Pasom Pong Prai Kumarn Ta Ya Wan See Fa. Ppressed from the Block Tong Hlueang (Block 2) mold, and coated with Blue 'Wan' Herbal Tint. 'Fang Takrut Sariga Nuea Tong Daeng' (copper Takrut inserted in rear face). This exhibit is in excellent condition and has been very well preserved with highy refined details and features.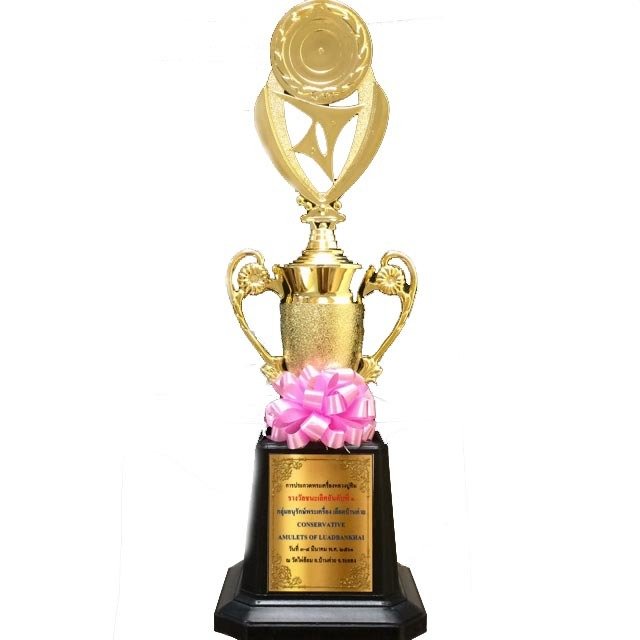 The Khun Phaen 15 is extremely rare to encounter in Nuea See Fa light blue color, and especially in such pristine condition as this 1st and 2nd prize Master Class amulet, that comes with a total of 3 authenticity certificates (two of them prizewinning status) and one first prize trophy, from two different amulet societies
.
Being certificated, and later gaining first and second prizewinner status, AND a first prize champ of show trophy in two further consecutive competitions, has given this amulet the status of a true Pra Niyom Master Class amulet of the highest esteem, confirming its immense beauty in the eyes of all aficionados.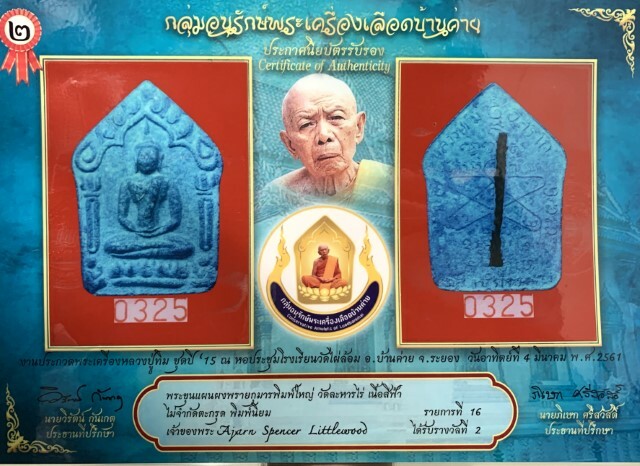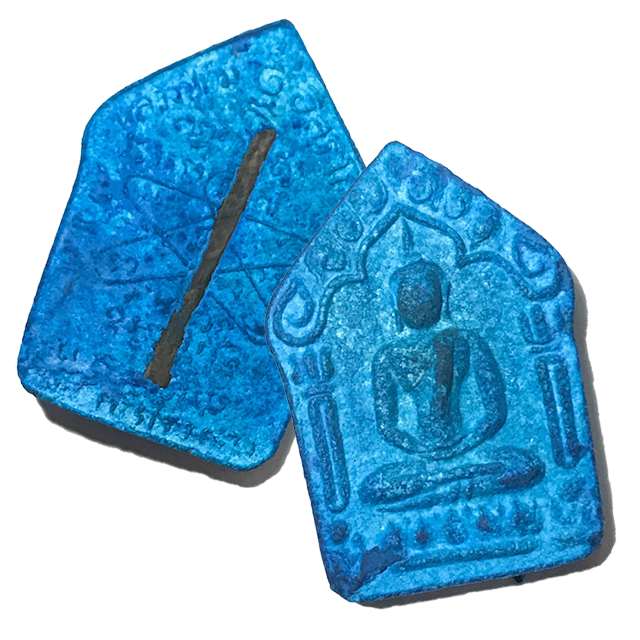 ---